Maple balsamic dressing has the perfect balance of sweet and tangy. It's the perfect salad dressing to complement fresh leafy greens and vegetables.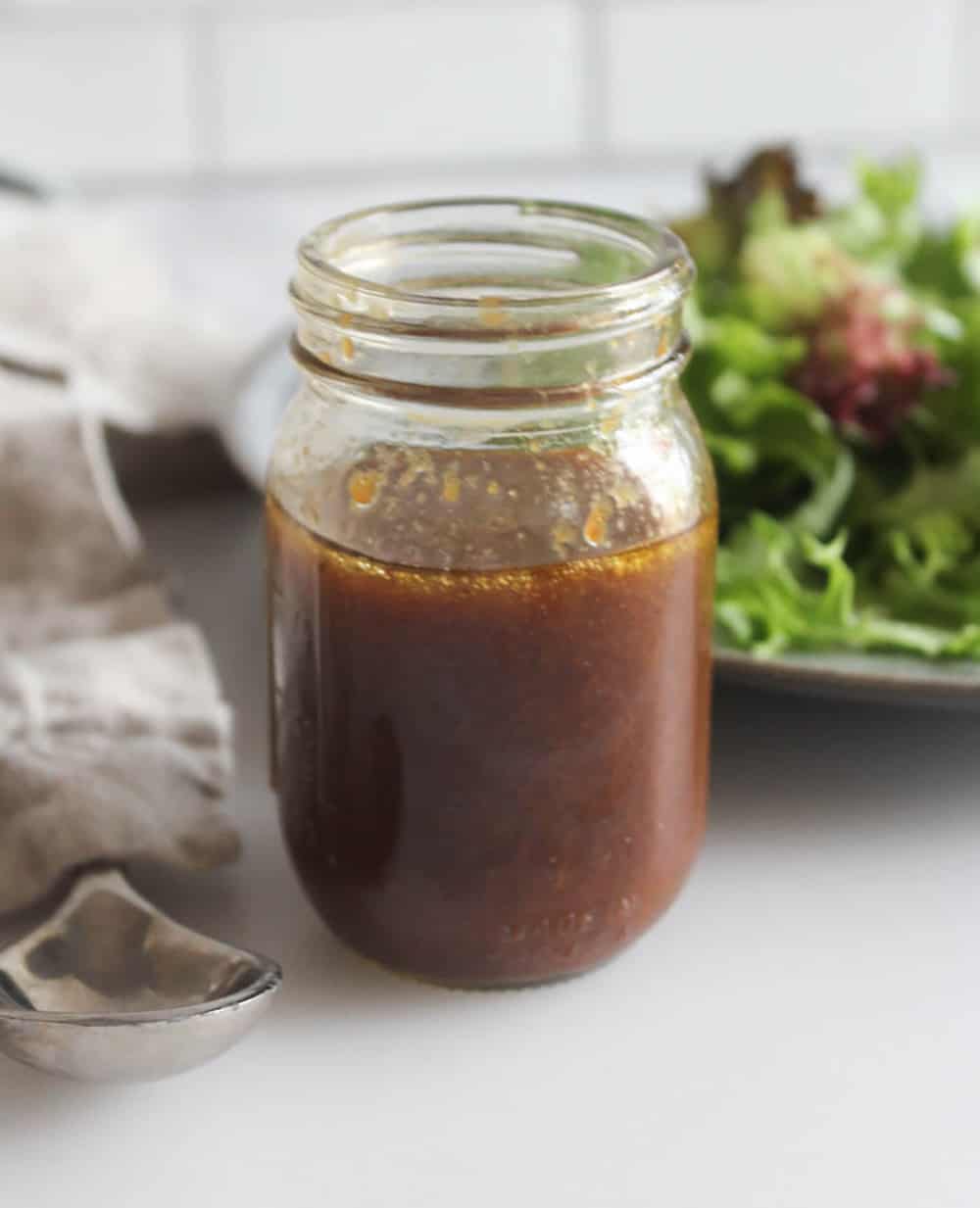 This dressing is delicious on so many foods, whether you use it to complement a simple salad, grilled veggies, fruit, or as a dipping sauce for bread. It's easy to make and can be customized to suit your tastes.
🤍Why you will love this recipe
Homemade dressings are a healthier alternative compared to store-bought dressing that may contain additives and preservatives.
It's an easy-to-make and versatile dressing with just a few simple ingredients.
Maple balsamic dressing is versatile; serve it with vegetables, meats, and even fruit.
Jump to:
Here is what you will need
This is an overview of the ingredients and steps to make this easy balsamic maple dijon dressing recipe; scroll down for a printable recipe card with exact measurements and detailed instructions.
This post may contain affiliate links. I earn a small commission if products are purchased through links at no additional charge to you.
🛒Ingredients
Balsamic vinegar
Maple syrup
Olive oil
Dijon mustard
Garlic powder
🥄Equipment
Small mason jar or small bowl
How to make maple balsamic vinaigrette dressing
STEP 1: Add all of the ingredients to a small jar or bowl.
STEP 2: If you are using a jar, place the cover on top and shake the dressing to combine. Otherwise use a fork or small whisk to combine it in a bowl.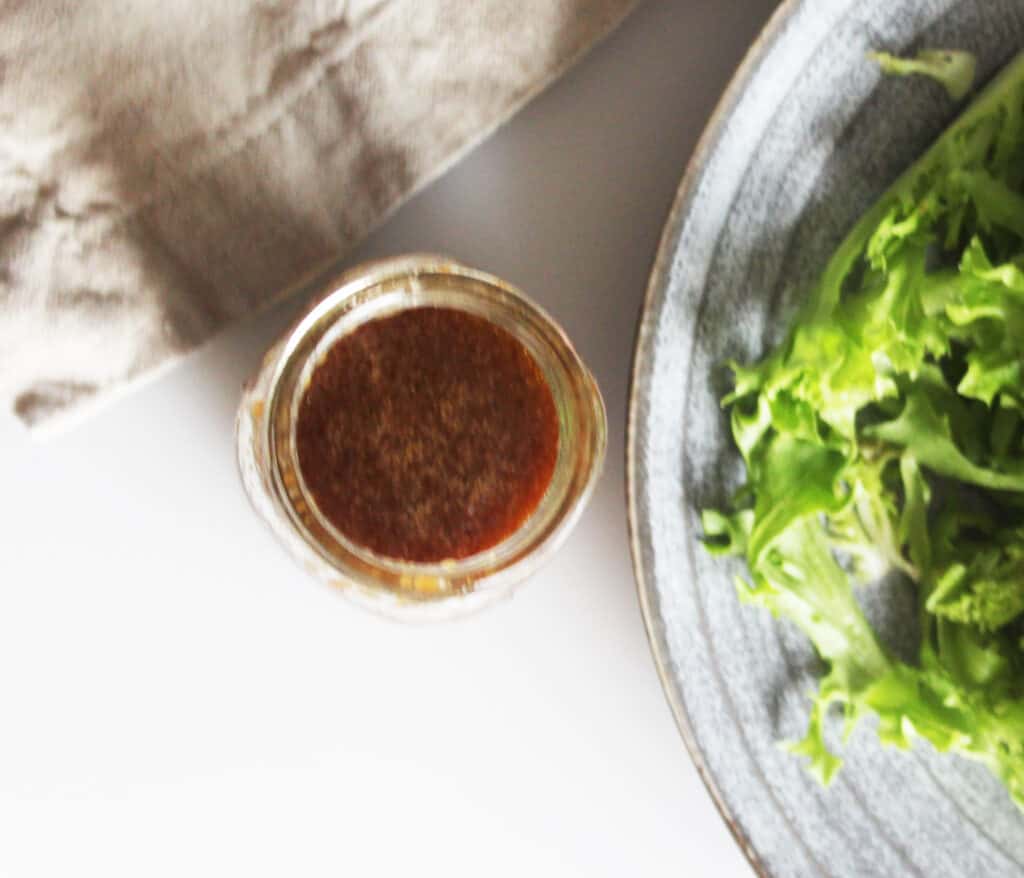 Note: This makes enough dressing for a medium-sized salad, with a little leftover. If you are serving a large salad you might want to double the recipe.
Ingredient notes and substitutions
The complete list of ingredients to make this balsamic dressing recipe. Below are notes about some of the ingredients, along with ideas for substitutes.
Maple syrup - Look for real maple syrup and not pancake syrup which is made with corn syrup.
If you don't have maple syrup, you replace it with honey, agave nectar or brown rice syrup.
Olive oil - My preference for salads is extra virgin olive oil, but you may also use avocado oil or sunflower oil. Just keep in mind that the flavor may vary depending on the type of oil you choose.
Garlic powder -Garlic powder is convenient and helps to achieve a smooth texture in the dressing. If you don't have garlic powder, you can use a minced clove of fresh garlic or garlic-infused olive oil as a suitable alternative.
Serving Suggestions
Serve this delicious dressing over your favorite salad such as a three-ingredient salad, tortellini caprese salad, crunchy romaine salad or an arugula salad.
Recipe variations
One of the benefits of homemade salad dressings is that you have control over the ingredients you use. You can customize it by adding or removing certain components according to your taste. Here are some ideas to help you switch up your salad dressing.
Citrus - Add a burst of fresh flavor by incorporating citrus flavors. Mix in lemon juice or orange juice for a tangy twist on your favorite salads.
Ginger - Add a warm touch with freshly grated ginger, making the dressing an excellent option for Asian-inspired salads.
Raspberry - Blend in a handful of fresh or frozen raspberries for fruity sweetness.
Fresh herbs - Add some freshly chopped herbs like fresh oregano, fresh basil, fresh thyme or fresh rosemary to make a delicious and flavorful dressing.
How to store leftover dressing
You can store maple balsamic dressing in the refrigerator in an airtight container for up to two weeks. To ensure the olive oil softens up, remove the dressing from the refrigerator at least 15 minutes before serving to bring it to room temperature. Just before adding it to your salad, give the dressinga good shake or stir.
💡Tips
Adjust the flavor according to your taste preferences. If you prefer a more sweet dressing add more maple syrup.
Whisk or shake the dressing thoroughly to ensure all of the ingredients are well combined and emulsified for a smooth texture.
For the best-tasting dressing, use quality ingredients such as aged balsamic vinegar, and good quality olive oil.
Can I make the dressing in advance?
Yes! In fact making the dressing ahead of time allows the flavors to blend together resulting in an even more delicious dressing. Prepare it a day or two ahead to save time.
Can I use a different vinegar for this dressing?
Balsamic vinegar is the base of this dressing, but you can experiment with other vinegar such as red wine vinegar, apple cider vinegar, or white wine vinegar. Each vinegar will add its own unique flavor.
Is maple balsamic dressing gluten-free?
Yes, this dressing is gluten-free with the ingredients used in this recipe. Just be sure to read the labels of the ingredients you use to make the salad.
Can I use balsamic maple salad dressing as a meat marinade?
Yes. The sweet and tangy flavors of the dressing make it a great marinade for chicken or pork chops.
You might also like these favorite salad recipes
Do You like this recipe?
Please comment and give it a ⭐⭐⭐⭐⭐star rating below!
📖 Recipe
Dijon Maple Balsamic Dressing
A zesty salad dressing that tastes great on any salad
Ingredients
1 ½

tablespoons

Olive oil

1

tablespoon

Balsamic vinegar

1

teaspoon

Dijon mustard

½

teaspoon

Garlic powder

1

teaspoon

Maple syrup
Instructions
Place

1 ½ tablespoons Olive oil

,

1 tablespoon Balsamic vinegar

,

1 teaspoon Dijon mustard

,

½ teaspoon Garlic powder

in a jar or small bowl and shake or whisk until combined.
Notes
Store leftover dressing in the refrigerator.
See the article above for serving suggestions and more!
Nutrition
Serving:
1
tablespoon
Calories:
50
kcal
Carbohydrates:
1
g
Protein:
0.1
g
Fat:
5.1
g
Saturated Fat:
0.7
g
Polyunsaturated Fat:
0.5
g
Monounsaturated Fat:
3.7
g